WOW your customers in an Online World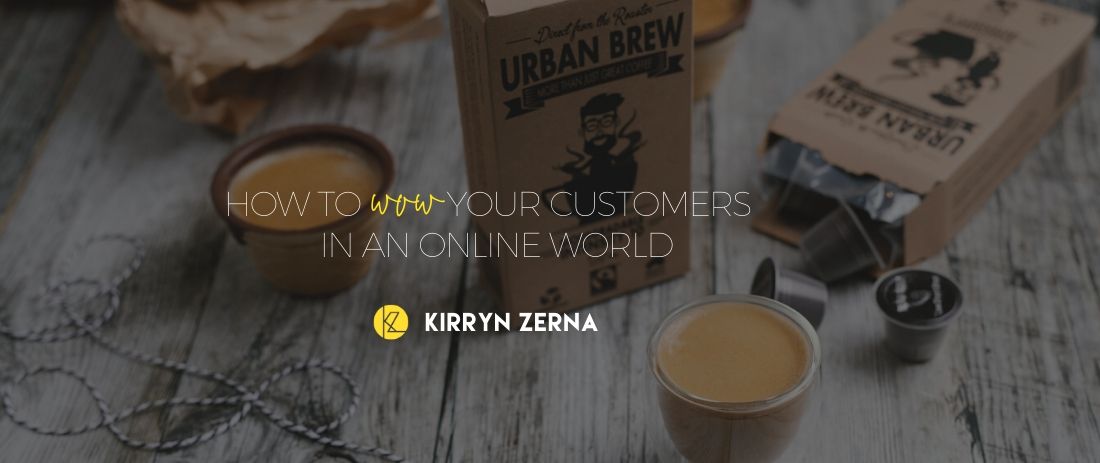 Urban Brew Coffee Case Study
While the pandemic has all but wiped out retail stores, the online retailer is thriving in the new virtual world.
Just like ethical coffee and biodegradable pod company Urban Brew.
They first caught my attention as a stand out online brand late last year, and my curiosity led me to interview the Pod Father and founder of UrbanBrew.co, Toby Strong. I interviewed Toby pre-pandemic and my notes sat unedited while the pandemic panic set in. And yet now feels the perfect time to share it, while we're all holed up at home drinking DIY coffee creations and when there is much to learn about WOWing customers in this online world.
When the Coffee Crush Began…
I first encountered Urban Brew while on a week-long holiday at Wisemans Ferry with friends (when we were allowed to do such things). In such a remote location — with absent wifi or phone reception — the desire for good coffee was left unfulfilled unless you brought it yourself.
My longing for good coffee was almost surrendered, until my well-prepared friend (who had brought their Nespresso machine) offered me a coffee using the Urban Brew pods. It was delicious! And I was even more impressed when I heard the pods were biodegradable and it was ethically sourced coffee. So, upon my return to internet reception, I was pleasantly surprised that they'd even fit in our Aldi coffee machine. From the seamless and visually pleasing experience on their website through to the checkpoint page, the follow up emails, the handwritten notes – I was charmed and impressed at the exceptional customer experience, the stand out branding and, of course, the quality product.
Curious to find out more about this organisation, I hoped this interview would help other business leaders and entrepreneurs to take their online influence to another level.
Interview with the PodFather
And so here goes,…
KZ: Thanks for taking the time for the Interview Toby. Your quest for the perfect pod isn't a new thing, with your successful PodPac business and now Urban Brew. Why did you pursue this line of business?
TS: We were the first to launch a Nespresso compatible pod in 2012. It was an imported brand and we sold direct to retailers and with some online orders. I had a skillset in sales and marketing, but no experience in coffee. And yet we created a really profitable business providing an easy to source, tasty alternative.
We hit an obstacle when our contracted supplier went insolvent owing us half a million dollars. It was a really hard time, our staff reduced from 24 to 12, our cashflow was squeezed and we realised our business model was flawed.
We looked at the solution of manufacturing ourselves, including eco-friendly pods. We realised the margins didn't quite work go through retailers, so we took the risk of going direct to consumers. This would allow us to launch a biodegradable pod with delicious coffee that might cost slightly more, and yet going direct to consumers meant it was affordable as we could push away the margins of retailers.
KZ. Let's talk Urban Brew. This is a direct to consumer online business. How did you dream up and then create this new business?
TS: Urban Brew emerged as an idea in 2017, and after a year of development we launched in October 2018. I'm a huge believer in education and learning, and so when I wasn't working or spending time with family I was listening to podcasts and audio books. Books like "Contagious" by Jonah Berger, "Purple Cow" by Seth Godin or "Made to stick" by Chip Heath and Dan Heath.
When it came to marketing this product, we knew that when you are an unknown brand then you have to "buy" every customer. So that meant targeting through social media advertising on Facebook, Instagram, Google, Youtube, etc. We all know that's expensive and so I was really keen to invest in a community of loyal customers. So I'm focused on staying connected with my customers through emails and with a Facebook Group. It helps us to retain customers and is a great way to give people an insight into who we are and how we can help.
We also wanted to take a long term view with this brand and create an ecosystem that would wow the customer from the website, through to all customer touch points, to the delivery and with our customer service.
KZ. What I love (and I mean really love) about this product is the strong brand and the way its personality is carried through all elements from website, packaging, design, even the language that you use. What was the approach here for your brand and marketing?
TS: The Urban Brew brand was certainly an extension of myself, and I wanted to bring through honesty, fun, entrepreneurialism and good old fashioned community values to come through. It was important that these values came through the language, the style and how customers experienced us.
We wanted to make old school customer service, cool again. I remember having all of my neighbours over for dinner, and I wanted to create that community feel through the brand. So you should experience that on the website, from the messages on our distinctive packaging, from our emails and when you open our hand written note on your coffee order.
I want to show my customers that they matter, that we're here for each other. I hope to show that by being willing to put the effort in to create an awesome experience.
This is a big deal for us. We have regular audits of all of our customer content. We print out each email to go over every word, and to make sure the sequencing makes sense and the story isn't disjointed. We know this isn't something to casually outsource, we're passionate about getting it right for our customers. The time and energy invested is worth it.
KZ. What advice would you give to other business leaders and entrepreneurs about branding and how to create this amazing digital-to-real-world experience? Any lessons learned?
TS: Here are my musings:
Take risks and always being curious, always asking "how could I solve that?"
Always be a student, always learning and always evolving
Encourage and welcome feedback – both in your business and personal life.
Put the effort in!! Don't just too caught up in the technology, people love the human touch. Word of mouth is so powerful as a result.
ABOUT KIRRYN ZERNA
I'm on a quest to help ideas, leaders and brands stand out (without selling out) in this age of online influence. I'm a conference speaker, a masterclass presenter and creator of the Stand Out Effect: a modern-day quest to uncover what makes brands stand out without selling out. What's unique about me is that I understand the nuance of business from a large corporation to a small business and can translate the challenges and opportunities of the power of social media in each context. I draw on deep experience of working within corporate and public sector environments, and I also have had the privilege of working with over 2,000 small businesses and entrepreneurs through state and federal funded programs in the last year.