Going Viral (too soon?!) and other Coronavirus Case Studies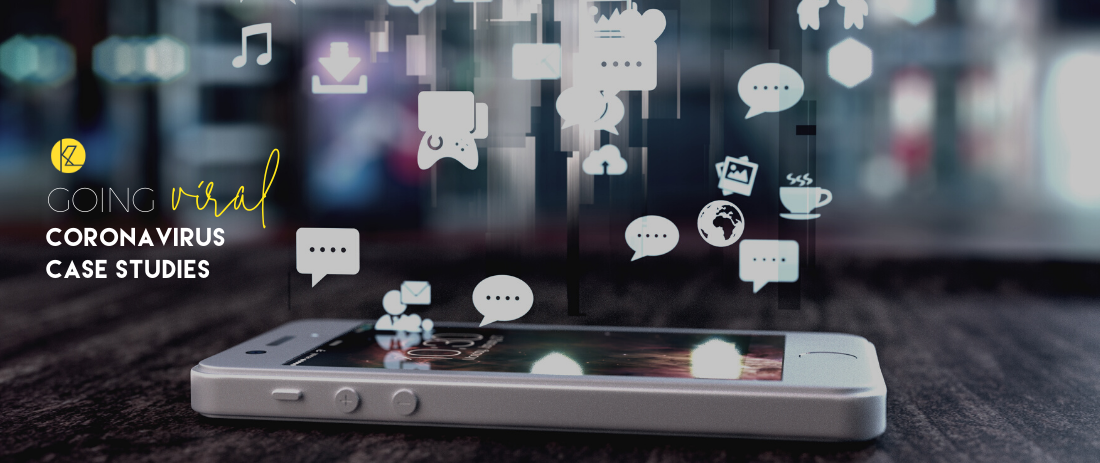 Promotional possibilities during a global pandemic
First published on TCC International Blog
Grieving the loss of… well just about everything.
Where's the upside to this coronavirus chaos?
Surprisingly, a few things are emerging, have you noticed?
Slowing down. Simplifying. Seeing friends through new virtual hang-outs.
What I've found remarkable, has been the creativity and promotional potential that has emerged from businesses amidst this global pandemic; including their approaching to online influence and collaboration.
Here are my three favourite Corona Case Studies.
My question to you is, what can you learn from these examples and in turn use for your own business?
1. The Kindness Pandemic Facebook Group
From the coronavirus-checkout chaos emerged the seed of an idea. Dr Catherine Barrett felt disheartened from the squabbling and the selfishness and in response, launched The Kindness Pandemic.
Beginning with the idea to encourage people to write kind messages to post in their local supermarket, it quickly grew to an online community of over 500,000 people. It's now a Facebook Group with contributors from all over the world sharing their random acts of kindness.
Here are a few examples:
(Source: The Kindness Pandemic Facebook Group)
So why does this work? And what can we learn from it?
They were quick to jump on the trending hot topic. There was something horrific happening, and the desire to respond and create a counter-message was strong. Being quick to jump onto this topic was part of the success of this group. So, what can you do? What is the hot topic that is related to your business where you could join the conversation and offer to help/serve/contribute as needed? If you can lead the conversation, then you'll become the natural spokesperson or authority on the topic.
The cultivated community organically and strategically grew. If you jump onto the Facebook Group, you'll see the community itself has created most of the posts. That's the goal – facilitating the discussion, so the group initiates the posts and interactions with careful moderation and occasional posts from the host. How do you replicate this? You need to find the discussion thread and keep nurturing the community to encourage it to flourish. The purpose of this for business, as opposed to this sort of community group, is that you will be nurturing a willing audience for future purchases and increase the likelihood of customer retention.
2. Featherdale Sydney Wildlife Park #Askazookeeper campaign
When cooties keep us away from visiting our furry friends, it poses a massive disruption for wildlife parks like Featherdale Sydney Wildlife Park and Mogo Wildlife Park (only recently restored after the NYE bushfires).
So if you can't go to the animals, can you bring the animals to the people? Zookeeper Chad and his team will take their fans on social media behind the scenes to see the animals still keeping up with their daily routines. And they launched a social media campaign recently called #Askazookeeper. It encourages young friends of the zoo to create a video question or photo asking a zookeeper a question they have about the animals.
(source Instagram)
What can we learn from this?
Firstly, the power of a question. It's a fantastic campaign idea to keep up brand awareness while the business is closed. Taking advantage of many kids and their carers holed up at home, it invites people to reflect on what they know and didn't know about Australian wildlife, then to interact with their brand by asking a question.
Second, the integration with multiple communication channels. I heard about this social media campaign on a national news TV broadcast, so they combined traditional PR on TV, online and print to promote their social media campaign. The idea that you can post-it-and-they-will-come is a myth. The correct sequence is to post it, then promote it, then post it again.
(Source: Instagram)
And make sure once you've promoted it, you interact with the people and then keep sharing their responses. Such a cute idea, and who knew penguins had ears and teeth!
3. Celebrity songs and TikTok dance-offs
Celebrities, and wannabees alike, are using TikTok and other social media platforms to create videos that wow and woo while in isolation at home.
It seems this pandemic has afforded both availability and creativity, with celebrities taking their performances to their audience in new ways using digital channels.
For those who miss seeing their favourite celebrities on stage, Fox presented 'The iHeart Living Room concert for America' on 29 March. Hosted by Elton John the amazing online concert included performances by Alicia Keys, Mariah Carey, The Backstreet Boys, Sam Smith and more; they performed in their homes recorded by mobile phones and other personal filming equipment.
Elton closed the concert with Don't Let the Sun Go Down on Me and all profits from the merchandise sold was donated to two American charities.
(source Billboard)
If they're not singing, people are going viral (too soon) with hilarious coronavirus dances and memes on TikTok.
The video-sharing app allows users to create and share 15-second videos, and it has become an outlet for the isolated. From hilarious dance moves or stories about life in quarantine to memes parodying public messages (like ABC's Andrew Probyn who became a TikTok meme after Coronavirus press conference), TikTok has it all.
(Source The Guardian)
What can you learn?
Humour and creativity can be a useful tool to stand out and capture attention. Just ask Celeste Barber who has garnered an international career and over 7 million followers from her satirical re-enactments of celebrity poses to hilarious effect. Remember though it's essential to stay on brand if you're not a naturally jovial brand – you don't want to create a jarring disruption to who you are.
Being Real is Real Good right now. Right now, those moments where you don't take yourself too seriously and perhaps show a slightly less polished, more authentic version of your brand or yourself can do wonders in creating a connection with your audience. Just imagine what it would be like to see a celebrity in their own home, how we lean in and relate to their humanity and commit our loyalty to them for the future. Likewise, showing a human side to your brand may be just the thing to create loyalty and trust with your (also) hurting client and audience base right now.
ABOUT KIRRYN ZERNA
I'm on a quest to help ideas, leaders and brands stand out (without selling out) in this age of online influence. I'm a conference speaker, a masterclass presenter and creator of the Stand Out Effect: a modern-day quest to uncover what makes brands stand out without selling out. What's unique about me is that I understand the nuance of business from a large corporation to a small business and can translate the challenges and opportunities of the power of social media in each context. I draw on deep experience of working within corporate and public sector environments, and I also have had the privilege of working with over 2,000 small businesses and entrepreneurs through state and federal funded programs in the last year.