LinkedIn Profile Tips: 5 Questions Everyone Should Ask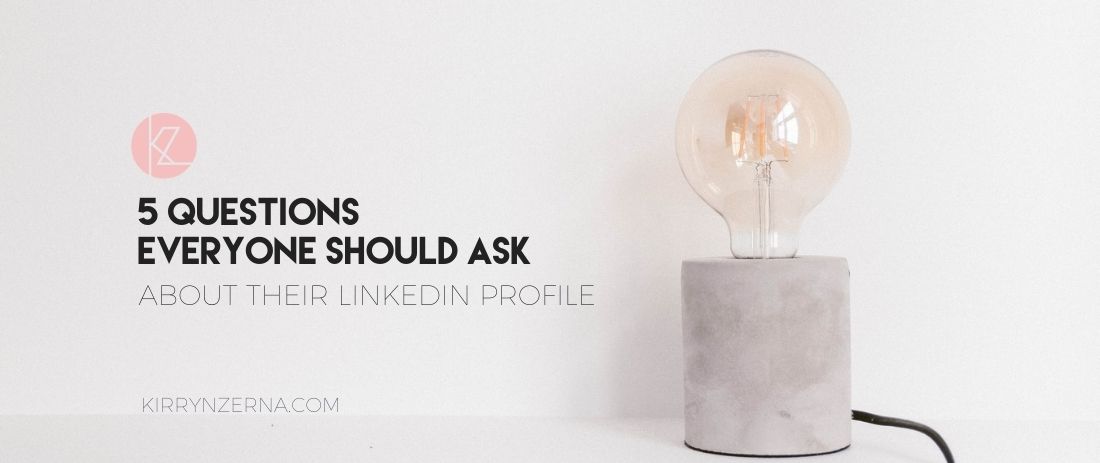 LinkedIn Profile Tips
<<Looking for a LinkedIn Profile Guide?>>
LinkedIn is like being at the best professional networking event of the year. Not only does it give you access to 690 million people globally (10 million in Australia), it helps you to get your name out to the people you want to know, and it's a vital tool to position you as an expert in your industry and beyond.
So if this is the party you need to be at, for your business or career, how do you prepare to make a great first impression?
Will it be the red tie, or the blue? (Just kidding, who's wearing ties right now!?)
So what do you need in your Profile, and what do you take out?
Let's go through 5 Questions Everyone Should Ask…
Question 1: Does Your LinkedIn Profile Wow with its First Impression?
Wow, what does wow mean?
Well it can mean something different for everyone, what does it mean for you:
If you were your ideal client, and you looked yourself up on LinkedIn, would you work with yourself?
If you were your future employer, would you hire yourself?
If you were seeing you speak at a conference, and then looked yourself up afterwards, would you have confidence that you were a knowledgeable about your topic?
In other words what the Digital First Impression that you are making with your profile?
What goes into that first impression? It's a combination of your Personality and the Proof that you are, who and what, you say you are.
The next few questions will help to bring further clarity to this quest.
Question 2. Does your Profile Picture reflect the first impression you want a client or future employer to have of you?
Yes you looked amazing at your awards night. Yes your hair looked awesome in that picture, where you cut out your cat out of the photo… however is that the impression you want to leave on your clients, or future employers?
I always ask – what would you wear for that client meeting or interview?
That's the look you want on your profile picture, consider the impression that you want to make.
Here are a few tips:
Pick the image based on how you want to be perceived. Are you serious and professional? Fun and carefree? Helpful and humble? Wild and adventurous?
Frame your head and shoulders so they take up the majority of the space. Your head is the hero of this shot.
Use a background that's not too crowded.
Choose contrasting colours so that you stand out.
Question 3. Are you SHOWING, not just TELLING, what you do through YOUR LinkedIn Profile Cover Image?
What is that picture at the very top of your profile? Is that a place for a nice sunset or cityscape? Why did LinkedIn give us an impossible task of another thing to complete?!
No, no, don't miss the magic of this 1584 x 396 pixeled opportunity (yes i made that word up).
In LinkedIn Land everyone will TELL you how great they are and all they have done, well this is a space to SHOW people what you've done.
Imagine using this space to:
SHOW yourself in action (a photo of you teaching a class, making a floral arrangement, taking a photo, working with a happy marketing client)
SHOW the list of brands you've worked with a carefully branded image
SHOW a powerful statement or philosophy that you work or live by
SHOW an image that has your latest award or an upcoming event.
If you currently have a picture of the sky or a mountain or worse, a blank space, jump on to Canva.com (an easy to use DIY design tool) and create yourself a Profile Cover image that shows what you do, and wows with a great first impression.
Question 4. Have you created a happening headline or is IT still set as the default; i.e. the name for your current job? Ba bom…
Your profile picture and your headline is the FIRST thing people see.
So how will Accounting sales manager whip people into a frenzy of wowness to work with you?
Compared to "I help small businesses with accounting systems that will grow as you do."
The Headline is is your PRIME real estate on LinkedIn. Don't just use the default name from your most recent job.
Here are some questions to ask yourself:
What are the key search terms for your role and industry that could be included in your profile?
What are the BIG wins that you want to include, e.g. awards or significant projects?
What is the enticing statement that attracts people to take the next step in finding out more about you?
Then have a go and ask other people what they think. What's their first impression of that headline, would they take the next step? There's some neat suggestions in this article by LinkedIn.
Question 5. Have you undersold your summary section?
Have your typing fingers run out of steam after a couple of dot points in the About section of your profile?
Here lies the true treasure of your profile. If you have to compare your LinkedIn profile to a job application process, the "Experience" section of your profile is like your CV and the "About" section (or summary) is like the Cover Letter. Think of it as your direct communication to your <<insert appropriate audience (client, future employer, team, industry colleagues)>>.
So where do you start?
First decide, how will you write. While you can write in third person, the profiles that are written in first person are also "on-trend." Given today's lean to being relatable and real, speaking in first person seems more authentic and personal.
Here is my guide for writing a cracker summary:
An opening statement that shows how you help or asks a question that captures attention.
What Are you Known for? A sentence or two that describes the essence of what you do and how you help (e.g. your key service offering/ unique area of expertise)
Your Credentials How can you show that have demonstrated experience in your field of expertise? What stories, facts or examples prove that?
Stand Out awards/achievements Do you have a degree, won an award, or climbed an amazing mountain that helps set you a part as a client or candidate?
Contacts Don't forget to give instruction on how they should engage you or contact you.
Call to action/giveaway – what is the next step? Contact me for… download my… go to my website…
Want a detailed LinkedIn template? Download one here.
And you can always WOW with extra media..
The small button that asks you to add media, is possibly the most overlooked section and yet it plays a huge role in establishing your authority.
What are the key videos, PDFs, white papers, websites that promote and show what you do, that you could include? This is the place to add them on.
Before we finish up, there may be one final question you could be asking…
What will people think of me?
This is a question I get allllll the time from senior leaders and business owners. Won't people think I'm full of myself/being too salesy/over the top if I create a WOW factor profile?
If you are asking that question, here's what I say to you:
You're not alone, about 75% of my audience usually say the same thing
Remember the desired outcome – you're doing this to help people/get a job/attract new business – so there's an intention beyond yourself for why you're doing this.
It's OK to put your best foot forward and still be You.
Yes, you're going to the (world's largest) networking party, so no you're going to roll up in your jammies (although you may still wear your ugg-boots off camera). You are going to make an effort in your appearance, and the same goes with your LinkedIn Profile – you want to create a compelling first impression there, too.
But, you can still be You. Your unique personality, and your story, is ultimately what creates rapport and connection. And helps you stand out from the crowd.
So when you know a Wow factor profile may be the very thing that lands you that future client, your next job or a speaking opportunity at a future conference… it's worth the energy right?!
So come on, who's up for a party pie?
About Kirryn Zerna
I'm on a quest to help ideas, leaders and brands stand out (without selling out) in this age of online influence. I'm a conference speaker, a masterclass presenter and creator of the Stand Out Effect: a modern-day quest to uncover what makes brands stand out without selling out. What's unique about me is that I understand the nuance of business from a large corporation to a small business and can translate the challenges and opportunities of the power of social media in each context. I draw on deep experience of working within corporate and public sector environments, and I also have had the privilege of working with over 2,000 small businesses and entrepreneurs in the last year.