The Re-Organisation of Influence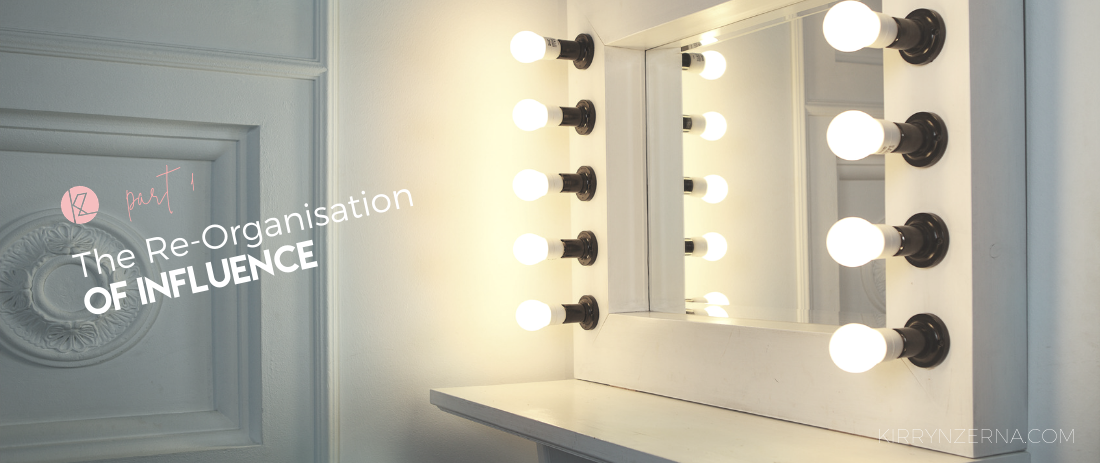 Part 1: Anyone Can Grab the Microphone
I remember when I was about 12 and I was in my first singing eisteddfod.
I sat for hours watching all the other competitors and then finally they called my name. It was in quite a large community hall. And when I got from my seat in the crowd and moved my way forward to the front, I suddenly noticed how high the stage was. Intimidated, I took one step at a time, and with each step my heart quickened.
As I reached the top and stepped out into the middle of the platform and looked down on the room from my towering height I had moved from panicked to petrified.
The long adjudicator table looked up at me, and gave me the nod to begin.
"My name is Kirryn," I said. "And I will sing for you…"
And then I stopped. Nope I had completely forgotten the song's name. I desperately looked to my singing teacher who was sitting at the piano to help me with the song name.
Panicked. Frozen. A thousand eyes staring at me.
From Spectator to Stand Out
In those days, panic was reserved for moments like those – standing on stage frozen with fear. And interestingly, today – you can experience this every day… only the eyes are digital eyes.
With the combination of internet, social media and rapid technological advances there has been a shift in the influencers on our opinions and daily lives. Traditionally our attention has been firmly gripped by the loudest voices of the establishment and those with the most dollars – the biggest advertising spend, the biggest brand, the biggest klout.
So as a society, we could watch the chosen few ascend those stairs to the stage: the politicians, the celebrities, the journalists, the big brands.
We could comfortably recline in our seats and watch them take the mike. Either on Stage, On TV, or in Newspapers.
Then things changed didn't they? With the ubiquity of social networks like Facebook, LinkedIn, Twitter, WeChat and more. Suddenly, anyone can climb the stairs and grab the mike.
The Reorganisation of Influence
And what do we have? A reorganisation of influence.
Those usual voices that spoke out are joined by well, just about anyone.
The barriers to entry for mass communication have lowered dramatically. It's like the microphone stand for broadcast announcements, once only reserved for the towering leaders of society, has been let down to a lower height where anyone can grab hold of it and start spreading the news (Frank Sinatra style), and subsequently their views.
Whether a person is in the biggest city (New York, New York) or the most remote distant village, now everyone has access to communicate, connect and learn.
It's brought positive change on the whole:
 Micro businesses that haven't had access to common infrastructure can now operate on a global scale due to the rapid penetration of affordable smartphones across the globe.
 Opportunities and empowerment have opened up for entrepreneurs and small businesses tooling them up for global growth and possibility with affordable advertising, low-cost production to tell their stories and the ready made platforms to spread their news.
 The rise and rise of social networks like Facebook, Instagram, WeChat, LinkedIn and Youtube have connected global populations in a way never seen before.
 The typical gatekeepers have been removed — you don't have to call the reception of a big company to get lost in a vacuum of nothingness, now you can drop the CEO an easy DM (Direct Message) or comment on a celebrity's Instagram photo and garner a response almost instantaneously.
And yet not all things are good. As the social super highways are now open for all, it has seen a huge volume of voices competing to be heard. There are many people have grabbed the microphone and started talking. And talking… and talking… and still are not saying anything (this line was added from a comment by @warwick merry). So discernment is required to articulate what your unique offering will be, and how that will serve your specific audience (this was from @Philippe Guichard)
There is no doubt that it has brought about an irreversible shift in the way we attract attention to our business. There is both an opportunity and a challenge before us (this was added by Kim Seeling-Smith).
All Eyes on You
And soon people are looking at you. Saying "Hey, are you going to join them?"
"Cos you know your competitors are, and your industry has, and your team are there."
Now all of a sudden, you're aware of the cost of sitting down, while everyone's standing out. What is the cost of an incomplete LinkedIn profile (which has taken the place of website and business card)? What is the cost of not sharing thoughts and ideas that add to the debate and shared understanding in your industry? What is the cost of not meaningfully connecting with customers, peers and future talent?
Could it be possible that it's time to take that deep breath, walk on to that stage and own it.
What will you do?
Next Week: Part 2 The Influencer in Everyone
About Kirryn Zerna
I'm on a quest to help ideas, leaders and brands stand out (without selling out) in this age of online influence. I'm a conference speaker, a masterclass presenter and creator of the Stand Out Effect: a modern-day quest to uncover what makes brands stand out without selling out. What's unique about me is that I understand the nuance of business from a large corporation to a small business and can translate the challenges and opportunities of the power of social media in each context. I draw on deep experience of working within corporate and public sector environments, and I also have had the privilege of working with over 1,300 small businesses and entrepreneurs through state and federal funded programs in the last year.
Looking for a Speaker for your next event?