Profile Shift: Standing Out when Uncertainty has become Certain…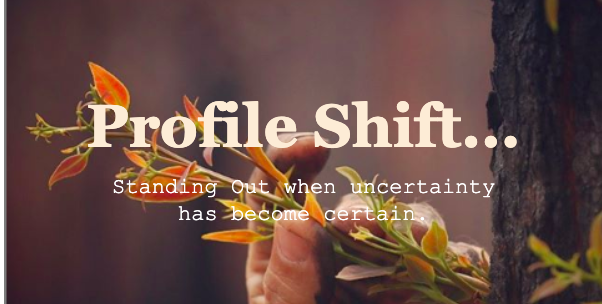 There's no denying this has been a shocker of a summer in Sydney, and beyond.
What started with such promise, has brought a tide of collective horror as we watched with anguish and grief as our brothers and sisters were met with the ferocity of fire.
Then just as the air began to clear, the outbreak of the Novella Coronavirus became headline news. And we were confronted with the rising toll of the unwell, both within and without China, and the stark images of those poor residents of Wuhan contained, restricted and fearful. We wait expectantly for the affects on the economy due to loss of production and strained international relations with closed borders and seemingly unwelcome tourism.
All the while the "impeachment" hum from our northerly neighbours and the, at times, flawed race for the Democratic candidacy goes on (hello Iowa). We even lost our favourite Royals, with the abrupt departure of Harry and Meghan (that still hurts).
In a world where the global economy can twitch from a presidential tweet, and an election can be swayed by the ubiquity of a social media giant…I can't help but ask, WHAT IS THE WORLD COMING TO?!!
When Uncertainty Has Become Certain
The one thing I think we can be certain of today, is uncertainty.
The control that I thought that I had over my future, I don't have. If there was ever a Summer to prove it, the last three months have made that clear. Where once disruption came mostly from global competitors and new technologies, it now also emerges from environmental and social impacts.
So how then do you or I, navigate through this season as a leader?
In other words, how does an individual stay relevant and STAND OUT in this shifting world?
Well, to be honest I don't have all the answers. I just have a number of questions and a few ideas.
Over the next few weeks, I'll explore some key areas that we can control to create some certainty in the midst of uncertainty.
As a LEADER, what can you control when all feels uncertain?
ABOUT KIRRYN ZERNA
I'm on a quest to help ideas, leaders and brands stand out (without selling out) in this age of online influence. I'm a conference speaker, a masterclass presenter and creator of the Stand Out Effect: a modern-day quest to uncover what makes brands stand out without selling out. What's unique about me is that I understand the nuance of business from a large corporation to a small business and can translate the challenges and opportunities of the power of social media in each context. I draw on deep experience of working within corporate and public sector environments, and I also have had the privilege of working with over 1,300 small businesses and entrepreneurs through state and federal funded programs in the last year.