Chasing Consistency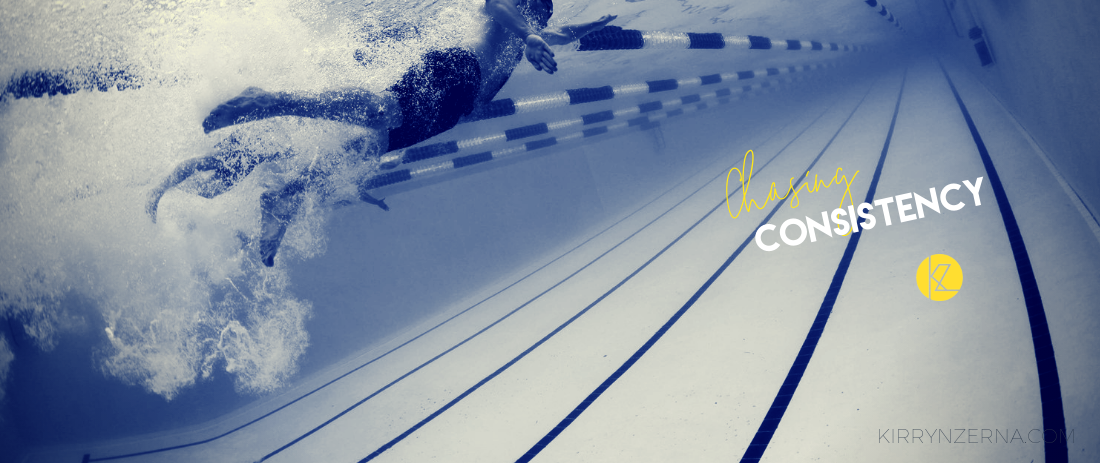 Playing the Long Game of Social Brand Building
I took my 6-year old daughter, Harper, for a day of swimming and end-of-the-holidays-parent-sensory-overload at Ryde Aquatic Centre in January. On a 40 degree day the intensity of the heat outside was matched by the atmosphere within; tired-looking parents and hyped-up kids that crowded the wave pool, screamed through the flying water features and filled the 10-minutes queues for the 10-second water slide.
After a long session in the main pool, my daughter enviously spied an inflatable climbing challenge in the Olympic swimming pool across the other side of the centre. So we elbowed our way across to check it out. Upon inspection, each child had to first pass a 20 metre-swimming test before they were permitted to climb the inflatable obstacle course; with the idea that if they fell off they could confidently swim all the way to the end the course and back to the other side without drowning. #helpful
Not really understanding what she needed to do, Harper started to swim doggy paddle, stopping repeatedly along the way to hold on to the wall. When she climbed out at the end, the instructor lady said, "Sorry, you haven't passed the swim test. You're not permitted to join the ride."
Not giving up
Known for her dramatic, loud and desperate tantrums, my little girl flung herself on the seat, threw off her goggles and wailed with misery. I tried my best efforts to explain to her that she needed to swim Freestyle and make the full 20 metres distance without touching the side. You see, we had stopped our swimming lessons, and her sporadic summer swimming efforts kept her afloat but not equipped for the distance or the form required.
As her sobs grew less, she grew still and steely. Then without a word, she snatched up her goggles, squared up her shoulders and walked back to the pool. She slid in the edge, took a deep breath and began a furious, flailing, flurry of freestyle and pounded her way down the pool, only stopping to breath twice.
When her hand hit the marker at the end and she pulled herself out of the pool and looked up at the instructor. The lady sighed. Looked at my daughter. Looked at me. Then said, "Well, I guess she really wants this. I'll let her go." And she bent down to put the armband around her wrist that gave her access.
As Harper walked triumphantly back towards the line for the ride, a grandmother we passed leaned into me and said, "Well I'll be. I've never seen such a determined young lady!"
Will Grit be enough?
Ha! I was so struck with admiration and mirth at my little girl's determination. After this moment, I re-enrolled Harper into swimming lessons!
It's awesome to see her grit and determination that could pull her through this challenge, and you definitely need that in life, yet what difference would it have made to have been consistently doing the work? To be refining the skills, building the strength, swimming the laps time-after-time – that would make facing a swimming challenge like this, an easy one?
Many of us have learned to swim, and we stand on the other side of a lot of hard work to have reached the unconscious competence that we enjoy today. This is the same process in building a social brand. There's so much talk of overnight success and instant fame in the social world that at times we can think if we throw ourselves in the pool and swim furiously to the end that's our online success done.
And yet the reality is, when you read the stories of well-known online personalities, they will say the secret to their success wasn't a snazzy one-off strategy, it comes down to this one ordinary word…
Consistency.
Consistently showing up.
Consistency with their message.
Consistency with their interactions with others.
I'd love to share with you a few insights that has helped me, and my audiences, to improve their consistency game this year.
1. Plan ahead and think of your big themes
I recommend mapping out the calendar year into key themes. This will help plan a pathway of what to start writing and where to source content. It has the added benefit of focusing the message for your audience. Hit me up with a Reply Email or a note in the comments if you'd like my Yearly Planner Template.
2. Schedule time to create your own content.
Last year, I was always trying to squeeze in my online positioning in the cracks of my other work. So how did I go? Pretty average. We all know – what gets scheduled, gets done. So when you schedule in a couple of hours per week to plan, write and schedule, you'll find the work gets done. That's my story so far!
3. Get help.
I've been working with a fantastic Virtual Assistant and she has helped to source quotes, create some images, and schedule content for me in an online scheduling tool. While I have focused on the overall themes and content creation, the sourcing of the "filler content" has been a real time saver. #highlyrecommend
4. Be curious.
This idea has come from my wonderful friend Yu Dan Shi. When you adopt a curious and playful mindset, your social profile building becomes more experimental and less about pressure and performance. This has helped me to stop taking this process too seriously and adopt a try-try-again approach.
5. Recruit a Cheer Squad.
Having people like colleagues and friends (and of course family) who will cheer you on, ask questions that direct your process and interact with your content, is a must. Hey, why not tag me in your posts on social; I'd love to become your cheer squad.
What I'm finding hard
I'm often plagued with the idea of "What will people think?"
This is the number one roadblock to creating a stand out brand, so no surprises that I think it too. Seth Godin says, "The best the timid can hope for is to be unnoticed. Criticism comes to those who stand out."
So how to overcome it?
Action. Just keep swimming.
I just push out the posts, take a few deep breathes and take on a mindset of service. I'm here to help and guide, not preach and sell. Some will like it, some won't.
As my other friend says, "Kirryn, sometimes you just have to care a bit less." Ha.ha. Sage words that I hope will encourage you too.
Here's to a Stand Out You in 2019.
ABOUT KIRRYN ZERNA
Kirryn Zerna is a speaker, facilitator and advisor. Her passion is to help businesses and leaders to stand out, without selling out, in this age of online influence. Known for her work in brand communication, strategy and social media, what's unique about Kirryn is her broad experience across sectors. She draws on over 15 years experience working with businesses of all sizes – from corporate, government, consulting agencies, small business and high profile individuals.