Book
The Stand Out Effect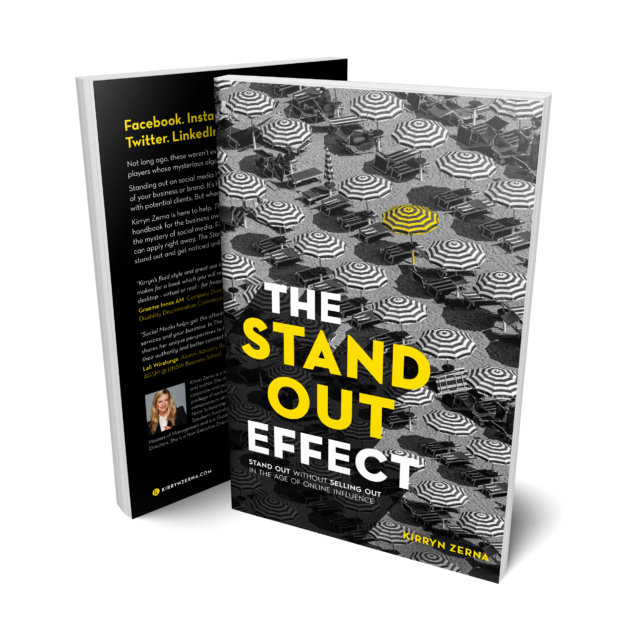 The Stand Out Effect
Stand Out without Selling Out in the Age of Online Influence
Facebook. Instagram. Twitter. LinkedIn. Snapchat.
Not long ago, these weren't even words. Yet now they're the power players whose mysterious algorithms can make or break your business.
Standing out on social media has never been more crucial to the success of your business or brand. It's how you get seen, get noticed and connect with potential clients. But where do you even start?
Kirryn Zerna is here to help
The Stand Out Effect is an essential handbook for the business owner or leader who wants to make sense of the mystery of social media. Filled with practical tools, plans and tips you can apply right away, The Stand Out Effect is a guide that will help you stand out and get noticed online for all the right reasons.
Buy now $25
Postage and handling $7.50
About the Author
Kirryn Zerna is a keynote speaker, masterclass presenter and author. She draws on deep experience of working within corporate and public sector environments and has had the privilege of working with over 2,000 small businesses and entrepreneurs since 2018. In 2017 she was awarded the Kerrie Nairn Scholarship for an emerging speaker by Professional Speakers Australia and holds a Bachelor of Management, a Masters of Management and is a Graduate of the Australian Institute of Company Directors. She is a Non Executive Director on two not for profit boards.
Want to see what I'm writing about lately?